Larp in the USA , as seen through the eyes of a Frenchman larping in Switzerland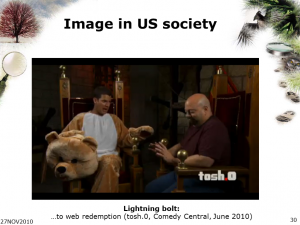 In 2010, before going to Knudepunkt, before going to Solmukohta, before starting this blog, and even before reading Leaving Mundania, I talked to the French audience of Les GNiales about my experience larping in the USA (mostly Vampire) and Switzerland (all kinds).
Two years later, here is an English translation of my first attempt at international larp promotion and analysis. Actually a live English translation was done for two visiting jeepers, now that I remember.
Some of the content will be anti-climactic for people who already watched my Swiss larp special , but the commentary on American stuff should be new to an English-speaking audience.
For an American perception of Nordic larp, I highly recommend Lizzie Stark's Nordic Larp for Noobs. Now all we need are American and Nordic perceptions of French and Swiss larp and we'll have come full circle.
Related