Here is my annual recap of the «Nodal Point» Nordic larp convention, held this year near Helsinki, Finland. Can't wait for next year when, according to the Harviainen scale, these reviews should reach traditional/classic status.
Solmukohta as pilgrimage
I am sure the comparison has already been done to death, but in many ways larp is like organized religion: people meet in a specific place, pretend to see stuff that no one outside the group can see, some dress in funky costumes, address each other using fake titles and use various kinds of rituals to achieve altered levels of consciousness. We even have dogmas, schisms and weird jargon (my holy vocabulary trinity this year was agency, affordances and alibi). So if larp is religion, Solmukohta is the conclave where bishops meet, rabbis ask weird questions to the synagogue attendees to stimulate their thinking and imams publish fatwas. For the lay audience, it's not even a metaphor anymore: if you have ever attended christian youth camps, World Youth Day events in Europe or visited the Taizé Community as a believer, the resemblance is uncanny. Groups of like-minded, mostly young, mostly white, mostly educated and very motivated people who can afford the trip gather in a specific safe location where they can be themselves and do crazy intense shit that the general public often dismisses as silly. They talk about it in exotic accents until the wee hours of the morning and some try to hook up with cute practitioners even though that is not what they officially came for.
Solmukohta as hardware show
If they were hardware shows, larp conventions like the French GNiales or the Swiss GN'Idée would show you very cool and practical things like affordable new types of glow-in-the-dark, musical screwdrivers that also make coffee and would teach you how to improve your screwing technique. Solmukohta however would show you that the regular screwdrivers you already own can also be used as sex toys and would debate whether you should start singing to screws to convince them to turn by themselves. That's right, here people think outside the toolbox.
Solmukohta as eye candy
In addition to more mainstream appearances, flashy hair colors, body mods, and queer looks are still going strong. Possibly due to the location, there were a bit more bearded larping gnomes with smiling eyes and staccato accents than at KP2011. Among hipsters, the deep V-neck t-shirts are being replaced with more formal ties and jackets. While some still play on the nerdy glasses/bow tie combo, the latest trend in jackets and dress shirts seems very Miami Vice or 1990s right-wing MBA students. In terms of hairstyles, plucked eyebrows are getting very creative. Long sideswept bangs with short-cropped temples make people look either like Rihanna or nazis depending on your local references. Bare feet or socks without shoes are still in, especially if you can sit cross-legged on the table while giving a lecture. My personal favorite this year was probably Mike Pohjola's 80s fantasy vibe at the Nordic Larp talks before Solmukohta. With his dubiously wizard-sleeved white jacket, headset and laptop he would have been perfect in my Shadowrun larp: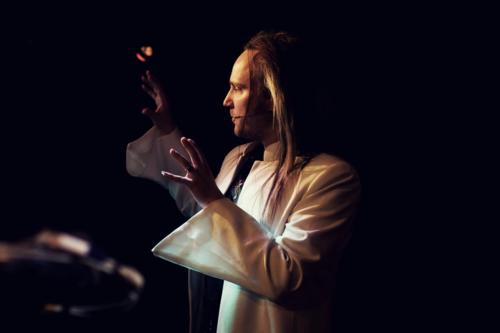 Mike Pohjola by Jakob la Cour
So what about the content of the damn con, you stupid superficial slacker?
Well, with the nasty habit that French male larpers have of kissing each other on the cheeks, I finally grabbed their germs, so I will rest and try to deliver those reviews on Wednesday night.