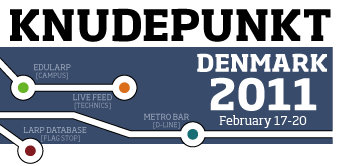 [Re-posted from the KP forum to introduce the next article.
X-Posted from RPG.net, because I really liked a lot of things about KP and this audience may care a bit more

The following is a rough translation of my Knudepunkt 2011 recap. I shared this first experience with the local larping community in French-speaking Switzerland. French larpers also liked it, so it is now available on a French larp portal.
A lot of the flavor and some of the few jokes were lost in translation. Next reports, if any, will be directly written in English because translating this was just extremely boring.
Links to the content, people names etc are on the KP 2011 website.
Note : Orc'Idée is the local Swiss gaming convention, Casus Belli is a classic French tabletop RPG magazine, Les GNiales is a French larp convention.]
===

If you're in a hurry: Knudepunkt is a large nordic larp convention, full of interesting experiments, wild theory, alcohol and naked Finns. It's really cool. If you speak English, go there.
If you're not in hurry: grab some popcorn, this may take a while.
What the deuce did he want to go in that longship for?
I had been wanting to attend Knudepunkt for a long time. Frog friends had been there several times and I had read a couple nordic larp theory manifestos (the usual outcome being murderous urges directed at the authors). But more importantly, I had heard of extreme experimental larps and had developed online contacts with somewhat strange Finns. These led to my translation of the minimalist A Serpent of Ash and my article on tabletop RPGs in France in Roolipelaaja, the late local Casus Belli. In 2011, for the first time of my life, I had both the time and the dough to go: it was time to see what was so rotten about Denmark (obligatory pedestrian Hamlet joke -check). I decided to give a conference on larp in Swizerland because showing up empty-handed at someone's place is just rude. I contacted the organizers and was already fully immersed in the con's exotic ambiance merely by reading those email addresses full of names that flapped in the wind of destruction like a banner of doom: I could smell horned helmets and O's with diagonal bands through them.
What if we don't give a fuck about your oh-so-special life?
Beyond the trip, why attend KP? In nordic countries, larp is pretty often seen as a socially acceptable hobby (if only for the youth) / an artform / a type of psychological experimentation / an education tool / at least something-creative-that-keeps-people-busy-in-a-smart-way-and-hence-can-be-subsidized. The result is that quite a few folks take this very seriously, publishing peer-reviewed, referenced academic articles. They go beyond entertainment, proposing manifestos, new theories, and try to explore larp's possibilites, boundaries and crossover with other better-known activities. It seems the majority of nordic larpers kick as much ork ass as the average Swiss dude, but the KP scene was large enough to create its own convention 15 years ago. The result is of a richness and depth rarely seen in our country, with one constant: professionalism.
Organization
KP2011 was held in Denmark (the con rotates yearly through nordic countries, using the local name every time), in a congress center / hotel / holiday resort-type thing in the countryside. Double rooms with bathrooms, comfy beds and wifi; swimming pool, sauna, snooker, cafeteria with quality food, day-long coffee and tea breaks, chill-out rooms and noisy bar at night – the whole nine yards. Organizers welcome you with a big smile and a firm handshake and shower you with goodies: a program booklet, notepad, pen, business cards and this year 3 hardback books. Chairs are comfortable, each conference room has a beamer and flipchart: logistics won't let you down.
Furthermore, everything is organized to foster discussions: 15 minute breaks in order to chat after each session, an overflow room to continue the discussion even when the main room needs to be vacated, badges, a rule to speak English as soon as non-yourlanguageophones are present (rather well followed) and one awesome gimmick: the extra chair rule. When a group of people has nothing secret to say, they add an empty chair to their circle. This way, you can sit down and easily join anyone's conversation, provided you also add a chair, and so on… Very effective.
One last practical point: if you feel like going, sign-up early: seats are limited. Unlike the GNiales, drop-ins aren't easy:
-no ticket, no love – and you won't get special treatment for coming from far away
-the con is in the boondocks and as nighttime drunk networking is just as interesting as the official program, you'd better sleep on location
Sessions
Format varies from classical conference to debates, workshops (e.g. a tango class), more rarely the odd mini-larp. Nighttime activties revolve around partying, with live bands, DJs and talk and booze.
You have to admit that days just flash by. Scandinavians have been exchanging on larp for 15 years -and it shows. They know each other, have had fiery debates, fads, and have solved quite a few topics. In comparison, other countries (including Switzerland) look kinda noobish or backwards. No big deal, but one realizes pretty fast that we play more like the Germans or Bulgarians than like the Nordics. It even shows in the looks of attendees: sure there are bespectacled metalheads like in Orc'Idée, but also much hipper styles, whether queer (I had not seen that many butch haircuts since my 4 years in San Francisco) or people straight out of the Being a dickhead's cool video.
To close the professionalism chapter, most speakers stick to their allotted time, their slides have often slick layouts and they are always available for discussion. The program starts on Thursday night and ends Sunday at noon. With 4-6 events in parallel during the daytime, you're in for a few Cornelian dilemmas. The first consequence is that you can end up with very packed days, so don't hesitate to get out for some fresh air or a dive in the pool just to get a break. The second consequence of parallel sessions is a bit negative: program items are basically competing for attention, and speakers tend to write super sexy item descriptions in order to attract an audience, but then change a bit their content compared to their program pitch, or only partially cover a very ambitious topic. Except for a few exceptions (e.g. the crypto workshop or larp recaps), talks are often "high-level theoretical, concept level" and don't always give practical, ready-to-use examples in your average game.
My sessions
Just like for the GNiales, here were my choices, just to give you an idea
Presentations: with more skill. Yes, a presentation on presentations. Two speakers explaining the importance of speech, body language, knowing your audience and managing stress levels to give a good presentation. Not directly relevant to larp but very useful at the beginning of a congress.
Culture shock: professionals, not mumbling larpers!
Fairyblood: pervasive larp in Israel. Presentation of a Changeling-like game deeply connected with real life. Its organizer's goals, what worked, what didn't.
Culture shock: Israelis don't like being photographed while larping, which creates issues to explain others what the game looked like.
Larp in Switzerland: my presentation, explaining there is no Swiss larp as such, because French-speaking Swiss larpers play like the French and German-speaking Swiss larpers play like the Germans. The audience was very diverse: from Czechia, Russia,Germany, France… and even a few Nordics, so face was saved (the parallel "rant special" event was the place to be). Reactions to the Shadowrun and Toshu Kaikatsu videos were very positive. Some peeps were pretty excited about a possible Pandemia III, Aplune will need to polish those English skills.
Culture shock: the russian larper who, afterseeing pictures the game site of Pandemia II asked whether it was treason to show images of underground nuclear bunkers.
This year in LARP academia: a review of books and academic articles published since the last KP, praising some, dissing others, but always asking for more academic rigor from the authors: using references, reading what has already been published before publishing yourself. The usual academic research rules, but applied to larp.
Culture shock: to put it simply, there is no such thing a French-speaking Swiss larp theory. So everything remains to be done.
What is Playground Magazine? An international larp magazine created by nordic larpers but open to all. The goal is to be beautiful, hip, shocking et especially readable by non-larpers. Emphasis is therefore put on slick pictures and an absence of jargon like XP or NPC. I subscribed and will keep you updated.
Culture shock: Same as above, we just don't have this kind of thing. It's in English, but clearly the type of eye candy that can show how cool larp is to non-larpers.
First timers guide to KP theory: a recap of notions, trends and vocabulary in Nordic-style larp theory. For example, "bleed" is when character and player "overflow" one over the other, for example when events that theoritcally should only affect the character actually affect the player as a person.
Culture shock: that's right, speaking English isn't enough, you also need to speak Knudepunktese
Come to Czechia, seriously. A presentation of Court of Moravia, a Czech group. Possibly the strongest display of willingness to make foreigners come to their larps. They run games in English, their presentations and website are very professional, with interactive trailers: classy. Of note are a game where people play students, teachers and workers in a totalitarian system and a film noir-themed game for 5 male players (players can even choose their femme fatale from a catalog).
Culture shock: the Nordic woman asking why women can't play Noir, and the Czech dude's answer: "Because that's the way it is". She side comments that women are able to play men,but the guy stands his ground, keeps smiling and repeats they'd rather not, that's it. They're working on a different, women-only game but Noir is men-only.
Why characters: a monologue by a larper who went through other somewhat-related activities (contemporary dance, BDSM) and, among other things, would like larpers to stop copying theatre or trying to obtain the same recognition as classical art forms and would rather concentrate on developing our own references
Culture shock: well, over here we'r e not even trying to obtain such recognition, so there is no real need to stop.
We were mad about the boy: the recap of a larp loosely based on the comics Y, the last man. All men died at the same time and women need to organize and run the planet without them. One run of the game was done with only female players, another one was open to a few male players dressed as women (no drag queens, but credible cross-dressing).
Culture shock: while I think this larp can clearly be run here, the organization around the game (pre-game workshops to define womanhood and how to roleplay in feminine way), the rather violent themes and the use of larp metatechniques make it a lot to take in one single game. The game materials are available so I'll read them and will get back to you on this.
Crypto workshop: the only « GNiales-style » workshop I attended, and one of the rare ones avaible in the official program. Very pragmatic, hands-on with all the gear provided. Some cyphers are a bit too strong to use quickly in a game, but there were a lot of really great ideas, including some using props, that enable changing from the tired Julius Caesar "A=K" cypher.
Culture shock: none, as the speaker was a long-haired dude with glasses and we handled paper props therefore I felt right at home.
What is larping, why are we here? Can it sell? A nice reflexion on larp in the broader sense of the term, what makes it interesting, teaching people how to communicate around their games (which may not always be larps, e.g. ARGs) in terms of marketing, reaching your audience and always redoing the same old thing.
Culture shock: slick zen slide design, a very high-level general overview, a blond, bearded speaker with strikethrough O's in his name: so KP!
How to larp like a rockstar: a local celebrity, kind of a more energetic version of The Big Lebowsky, explains how to behave when larping in another country. Very funny, very rock & roll.
Culture shock: the dude arrives wearing shades at night with two sidekicks, all three only clothed with a bath towel wrapped around their waist, an alcoholic beverage in each hand, what else do you need?
Video saloon "20 years of LARP in Russia": some fantasy videos, some historical larps (with dudes building actual boats for their Elizabethan larp) but also humor (we have ninjas, they have a group of rastas whose leader walks around wearing nothing but a g-string, drum in hand). And I know have confirmation that Russians often fight with plastic+metal or wooden weapons (full metal swords are for re-enactment style). Otherwise "we can't feel the blows on our armor, hits are too fast and your arms don't tire enough".
Culture shock: I am hesitating between the guys holding on the doors of a camp that were under assault of an actual tree trunk with a pointy bit (latex rams are for weaklings), and the guy that stage-dived from a wooden palisade unto a unit of assaillants with weapons pointed up. But it seems that there were only 5-6 death in 20 years.
The Big Taboo: why Germans, unlike Europeans, are not allowed to run larps with Nazis, even if it's to shoot them up.
Culture shock: the example of the censorship of Wolfenstein 3D clearly showed the limits of this teutonic law.
Confessions of a LARP company: the two owners of a Danish larp company show and tell. The Big Lebowsky is hungover, dressed back up and proves he's not just a loudmouth but a guy who is very active and does a number of amazing things, quite a few of them without getting paid. Plus he provides numbers and real-life examples: perfect.
Culture shock: the local bishop hiring them to organize a larp for Christian youth preparing confirmation. to make them think about what being Christian means nowadays.
Manipulating for good: a panel of organizers having run games that were manipulating their players, on different levels. Games either had heavy political messages, took place in totalitarian regimes (sci-fi or historical, e.g. WWII in Belarus) or hit sensitive issues affecting the player as a person, in addition to their character (the famous « bleed »). Some even used borderline brainwashing techniques (e.g. shifting sleep cycles etc).
Culture shock: the number of breakups and changes of sexual orientation after some of the games, the interruption of a larp by the arrival of the local equivalent of KGB and police on the game site, just too many example to tell everything.
Larp symposium: the italian larp conference. An ad for the next larp con in Italy. I expected a recap of presentations from the last con, or even a summary of the various Italian larp sub-cultures (which seem to blatantly ignore each other), but the session was a huge mess consisting in guys interrupting each other, making private jokes, looking for a knife to cut the Italian ham (really tasty by the way) and promoting their larp book. I should insert here obligatory references to comedia dell'arte and say the whole thing was very Fellinian but I just felt like I was watching the Marx Brothers. Anyway this was very funny and provided relaxation between two more serious items.
Culture shock: messy, noisy, dark-haired and merry, it made you wonder whether they were trying to purposefully reinforce stereotypes.
International comparative larp study: presentation of a project studying larpers and their practice throughout the world (things like how long does a larp last for in Honduras? Do players write their own characters in South Africa?) The project hit home with my inner scientist and expatriate larper. I'll contact you in a few months to ask you to answer a few questions.
Culture shock: since French-speaking Swiss larpers don't larp in German-speaking Switzerland, the international larp community now provides them with a way to learn more about their neighbors.
The senses of the player: how to get messages across to your players by using their senses, and not only the famous 5. I expected a practical workshop full of examples that had worked in actual larps but this was actually a rather long intro on communication theory with a "neuroscience for dummies" side. It's fine for a lay audience but I would have been more interested by the things that would have come after said intro.
Culture shock: the use of the word "meta-bleed" without warning or definition. This shows that an Israeli can out-knudepunkt Scandinavians. 'Nuff respect!
Swing workshop: a swing dancing class aimed at learning the basic steps for the night's party. In the spirit of adventure and experimation that characterizes KP, I decided to give it a shot. I knew I had no sense of rhythm and danced like crap, but that was no big deal when everyone was having fun as a group. It became more of a problem when I imposed this upon partners, so I had enough pretty fast.
Swingfest: the «fantaswing» (fantasy meets swing) themed party. Lots of elf ears, a few very classy costumes. I was super lazy and just brought vamp fangs (yay for carry-on luggage!) and a Max Raabe-inspired outfit.
Culture shock: the dude dressed as the Fairy Führer (he wanted to exterminate all orks), with a Tinkerbell silhouette where the swastika would have been on his armband. On the same day as the «big taboo» conference, this was some serious sense of timing.
Jeep in the forest: piggyback and mirrorring. I had already heard of French larpers who wanted to bring their own murder mystery to The Gathering in order to have real plot in a a mass combat larp but this is even stronger. A group of jeepers organized a larp within a larp within a larp. The framework was a "traditional" viking larp. The infiltrated players were playing a group of viking religious fanatics who spent the week-end more or less recluse, treating each other like shit, using their own plot and jeepform metatechniques. A few hours every day, they would go further away in the forest far from the game site and play characters with similar names but in a modern setting, having a midsummer campout, in a much more relaxed and party-like atmosphere, enabling them to better withstand the horrors they would impose on each other during the viking game, all the while making the relationships between characters progress.
Culture shock: remplacing OOC breaks by IC breaks in another game, now that's an idea
.
Scientific and technological aspects in larp. An academic study on the influence of science over TT RPG systems, the way science and magic are covered in games, and few reflexions on larp and scientific education. I would have liked more of the last part, and it would have been cool to talk more about the use of technological gadgets for special FX or game mechanics (e.g. networked computers, RFID chips etc).
Culture shock: Figli dell' Olocausto, a post-apocalyptic Italian RPG has a hit location and damage system that details down to which muscle has been hit!
Chocolate exchange program: people bring chocolate from their country and the tasting begins.
Culture shock: let's remain polite, and say I would have liked a few Belgians to show up in order to provide some competition.
Then everyone left with may hugs, contact info swaps and promises to see each other again at this or that international event. We even did a small debrief session amongst francophones, because there's no reason only the scandinavians get to run elitist secret events in KP.
One day I'll write about the gifts (3 books, an English-language Larpzeit International, a Drachenfest DVD) or purchases (the gorgeous Nordic Larp book), the intronization ritual, and the virile helicopter worshop but it's getting a bit long.
To wrap this up, one thing is clear: next year it's called Solmukohta, it's in Finland and I'll do my best to attend.
Related