Knutpunkt is an international conference about Nordic style larp, held this year in Gullbrannagården, Sweden. In the spirit of "focus in 2014", my recap is much shorter than last year's.
Random larpish memories
· Seeing the attempts at renaming "Nordic larp" into "progressive larp".  Does this mean intellectualized, self-indulgent games with 12-minute-long flute solos?
· Being amazed during the Nordic Larp Talks, as usual. And it's the first time I see a robot reacting to the brainwaves of someone trying to seduce it.
· Finally being able to completely relate to larp theory presentations. "Steering is the process in which the player influences the behavior of her character for nondiegetic reasons". It made perfect sense and I still got my dose of jargon with phrases like "retroactive rationalization retconning". "Elements of larp design" rocked, but now I need the paper.
· Finally smelling a small, fleeting whiff of real science in the ongoing debate on psychological safety after hard larps.
· Getting confirmation that most larpers want larp pictures of themselves but don't really know how to properly deal with that whole online privacy thing.
· Seeing Lila Clairence, author of the opening game Bus stop, come up with an awesome larp idea during a group discussion. No, I won't spoil it.
· Bringing photo proof of French and Swiss larpers of various races and ethnic backgrounds playing with stereotypes during events that are designed primarily for entertainment, both having fun and experimenting. Once documentation from these larps is brought outside of the context of the local larp scenes, it can indeed raise all kinds of issues. Big thanks to Lizzie Stark and Tor Kjetil Edland for organizing the panel on cultural appropriation, and to the other panelists, César Alvarez, Shoshanna Kessock, Jaakko Stenros and Eva Wei. Everyone got to hear and express different views on this complex issue, and this is what mattered the most to me.
· Realizing that several attendees of the Afroasiatik presentation hadn't heard of the game before Knutpunkt and really came because of the hip-hop performance aspect. Getting to thank the KP scene whose advice made the game such a success and showing the design choices that made larpers rap and dance.  Due to real-life work and a laptop meltdown, I had to miss many program items this year to finish the slides on time, but it was worth every second. For attendees that asked for a playlist, start with the video links at the end of this blog post, then go to part 2. For those that asked for more workshop videos, design methods etc, please contact me privately. Big thanks to the players for their participation!
The rest
· Laughing so much during the hour of the rant, everyone was awesome, from the Palestians to the Americans. Also, judging from the bits of open mic night I saw, Finnish standup comedians rock.
· Being massaged then lifted in the air by three Finnish larpers and one British tabletop roleplayer. There was an actual workshop test-run justification, but I just enjoyed the ride.
· Having a Swedish midsummer experience, in April, in the middle of a giant octogonal room with concrete floor and stage lighting.
· Dancing and rapping to La Caution's Thé à la menthe during the party, while wearing an 18th-century-inspired leather frock coat. The fact that this track was chosen by a Swedish DJ pretty much summarizes my KP2014 experience. And dancing to Stromae's Tous les mêmes for the iPod battle was pretty cool too.
· Cross-pollinizing ideas with other larpers, tabletop roleplayers, performance artists, theater people, in the most random settings, from  dinners to bus rides to parties.
Learning, laughs, tears, desire, politics, stress, joy: Knutpunkt 2014 delivered way more than I asked for.
So thanks to all organizers and attendees, and see you next year!
8-Apr-2014 edit: and as a bonus.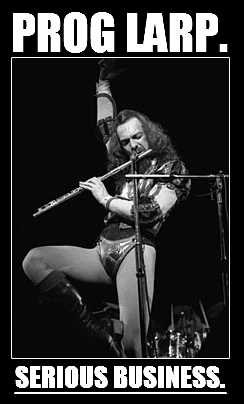 Related