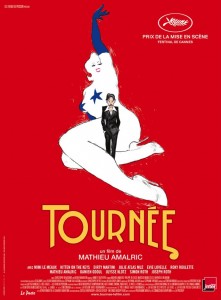 After a small taste in The Spiral, the Franco-German TV channel Arte goes full-on larp and will organize a Nordic larp in Paris and Berlin on October 29th.
The goal is to roleplay a sequel to the burlesque movie Tournée by Mathieu Amalric.

It's a great idea, but the French and German webpages have left larpers scratching their heads, or even feeling insulted.
French roleplayers have a mixed history with the accuracy of journalistic coverage of the hobby, mainly because they went through the same type of lie-ridden media witch hunt in the 1990s that the US got in the 1980s. So when someone sells Nordic larp by saying it has never been done outside of Scandinavia, as the French translator and organizer of J. Tuomas Harviainen's A Serpent of Ash in Switzerland back in 2008, I beg to differ. And what of Nathan Hook's work, of the Italian scene etc. ?
Then French larpers have a painful and very recent history with naming and branding of larp by corporations.
The Arte larp is done with a transmedia company, which is fine, but the last time a French event company dealt with larp, they tried to trademark the phrase French larpers use to designate one-shot murder mystery larps ("murder party" en français dans le texte). The company sued a random non-profit larp group that dared organizing such a game using the phrase that everyone had been using since way before the company existed. The trial took years of work, stress and money, which could have been better used to organizing games. The larp community (the non-profit local organizing group, helped by the also non-profit FedeGN, the French larp federation) finally won the trial and the trademark was declared invalid, but the topic does make people tense.  Larpers welcome people trying to make a living out of their hobby, they just want said people to respect the existing community.
So what is the problem now?
Arte uses the word "larp" to refer to "Nordic larp" to differentiate it from "GN", the French acronym for "larp", by saying it is essentially better (newer, more believable, more immersive, more realistic, not connected to fantasy settings) than "GN". Which is bullshit because Nordic larp (or "GN Nordique") is just a type of GN. GN just means larp, so you get massive battle boffer larps, intimate horror larps, Nordic larps… all kinds. French larpers have been organizing and playing Nordic larps in France for a few years now, and they use "GN" (or jeepform if it's a jeepform). The page is so proud to say it invented the verb "larper un film" ("to larp a movie") in French to designate the action of running a larp based on a film, just like Be kind, rewind invented "to swede a movie" to make a funky cheapass remake. French larpers have been adapting films into larp for years just saying "faire un GN [insert movie title here]" (to a run/play a [insert movie title here] larp). I"ve played a Star Wars larp set in between episodes II and III in 2005 and people have been doing these since the 1980s. The kicker is the German page seems to be badly translated from the French page, bringing the confusion to the other side of the Rhine.
What's the big deal?
Nothing, it's just a bit annoying to see something branded as new, better etc when the journalist/copywriter could just have done their homework. The poor word choice is introducing confusion that could prevent new larpers from finding existing larp groups doing exactly these types of games.
Bottom line: Arte announces a Tournée larp, which is a great initiative, sign-up!
Pour les Français: Arte annonce un GN Tournée et c'est une très bonne initiative, inscrivez vous!
4-Oct-2012, 16:46 update: the organizer has been contacted by many French and German larpers, a constructive dialogue has started, and some good corrections are already implemented on the web page. We're not fully there yet, but it's a nice testimony to the power of crowdsourcing. Long live the larper internationale!
8-Oct-2012 update: the organizer has been interviewed by Electro-GN, the main French larp blog and displays a heartwarming noobish enthusiasm to try something different from his past experience producing movies and stays open to communication with larpers. Good stuff!