A funny thing about joining a larp scene is hearing about past larps from "the good old days" and wondering how they were really like.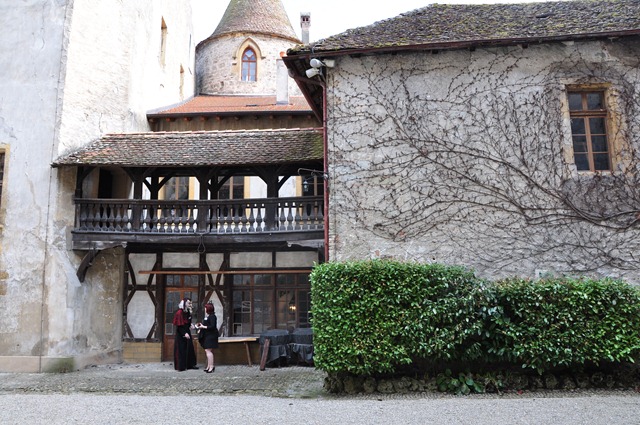 Welcome to Hell on Earth
Envy
I had seen photos from some of the five previous demon-themed games and was a bit envious, but none had been run since my arrival in Switzerland. So while for many players Daemon VI: La Femme et le Dragon (again no need for subtitles) was a revival, for me it was a step into the unknown. The setting was modern day Armageddon: the infernal army had finally decided to take over the Earth, and started by a victorious invasion of Switzerland. The high council of devils would meet in a castle and plan the next battles to seize total control of mankind before angels could react. Plus there were various questions like when Lilith would give birth to the Beast etc.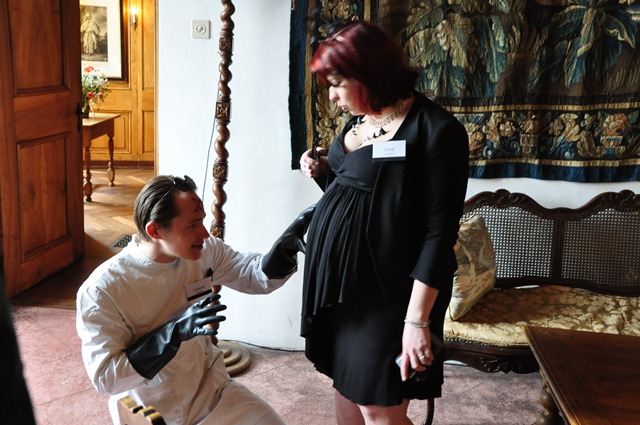 Trust me, I am a doctor!(Yes, Swiss larpers are so hardcore they use actual pregnant women to play antichrist-bearing demons)
As a former writer for the INS/MV game, the premise looked fun and a co-organizer was behind the Chillon castle larps, but the pre-game booklet made me perplex. First it was printed and sent by snail mail, which triggered an "old school" warning, then most of it was spent describing the administrative organization of hell, with an org chart, formal titles etc.
My character's description was very succinct: it listed a couple allies, enemies and one dark secret to hide. But there was very little backstory, nothing on looks, nothing on personality, roleplaying hints etc. It was the first time I was given both enough plot hooks to ensure not being bored and no "artistic vision" as to what the organizers wanted, beyond the same costume recommendation of "stylish demon" as everyone. I find it fascinating to see what different organizers think should be put in a character sheet.
Greed
One of the first things that hit everyone when learning about the game was the entry fee: 130 CHF for a dozen hours of larp? After the initial shock, I did a rough calculation and saw that our Shadowrun larp still had a more expensive hourly rate, calmed down and hoped that the logistics would rock. And they did. First the game site: the castle of Grandson is nice from the outside, but the indoor decoration is even better for a demon game. We had undisturbed access to private historical rooms with badass tapestries, dark paintings and creepy hunting trophies. The mishmash of historical styles and weird modern touches like soundproofed ceilings fit the setting perfectly. So the price tag was rather a sign that larpers age, get jobs, and are ready to shell out the big bucks for better sites and comfort.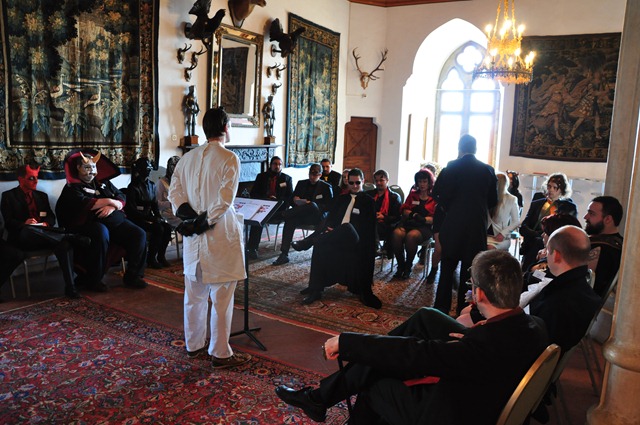 The main hall
Gluttony & Lust
In the evening, a very tasty buffet was set up by a professional caterer with four workers (employing any human being in Switzerland will kill your larp budget, but four?). The menu, served with wine, was very accommodating to player dietary restrictions and confirmed that the sign-up fee did not go into some stupid prop no one would see, but directly into our taste buds. The caterers remained friendly and professional, they possibly had seen worse than our satanic looks.
Sexual content was rather mild for a demonic game (obviously everyone wondered who the real father of the Beast was), much lighter for example, than the gangsta fantasy larp I played last year. So I won't expand upon this and settle with some eye candy.
| | |
| --- | --- |
| | |
| If you're into metal… | …or oldies, or leather, or priests… Hell will deliver. |
| | |
| --- | --- |
| | |
| Partial skin conditions were in fashion for gents… | … and for ladies too. |
Sloth & Wrath
As hinted by the booklet, the main organizer likes paperwork and bureaucracy. This meant many, many names to memorize, as well as acronyms for the various departments of hell, sub-committees, etc. There were many meetings to attend and to keep track of all of this the player package even included a pen and notepad. This game structure was not only reflecting the organizer's vision of diegetic hell, but was actually a great way to make sure people were busy scheming. And even if their personal agenda had already been fulfilled, the head demon would assign tasks with deadlines, or you would get accused of something etc.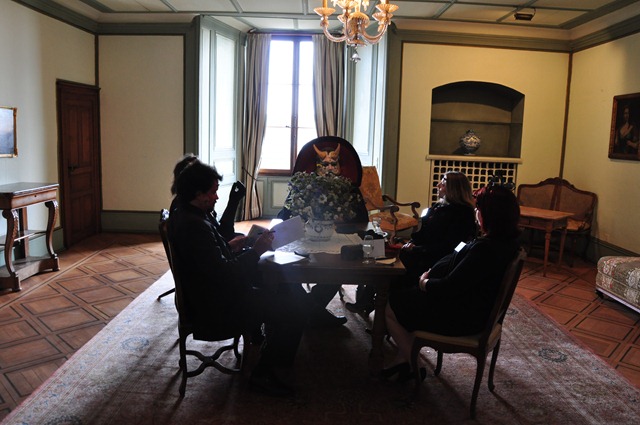 I don't remember there being an ikebana committee, but you never know…
Kudos to Tristan, the veteran local larper known for his communication skills, which were put to great use not only to make a credible leader, but bring game to the players of underlings, whether by putting pressure on them or welcoming their ideas like that new committee on denunciations. I did notice some slow times for some players, and overall the slow process of democracy tended to drag the game a bit towards the end, a common problem when people want to decide things. Not everyone is a great public speaker, and some of the group public scenes, like the trial I ran would have benefitted from faster deliveries. I actually believe those would better be rehearsed pre-game or heavily directed live, if possible diegetically but if not meta-techniques would work too. An organizer-run event at the end did ensure a end on a high point but I believe we as players could have done better than stalling.
In terms of violence, while in theory there was a whole combat system with spell cards etc in that massive pre-game envelope, I didn't see any combat. Which I didn't mind at all, because I hate memorizing combat systems in larp and the game was billed as "diplo" anyway. There was one roleplayed berserk attack but it stopped right there, and the rest was mainly negotiations on taxes to pay for armies. As it seems many people wanted to evade taxes (we're demons, right?) it seems that this also slowed down processes and our glorious conquest.
Pride
In a time when large local larps tend to be built like video games, I'm proud to see that our scene can still deliver plot and roleplay-heavy events. It was interesting to see how a very simple theme, when tacked onto an administrative clockwork environment, makes for a very enjoyable game with very little downtime. Now that the Beast is keeping her organizing parents busy with diapers, it may be a while before we see another game like this, but I'll be patient. See? I even managed to finish with a heavenly virtue.
Photos Copyright Laurent C. and Maud J.