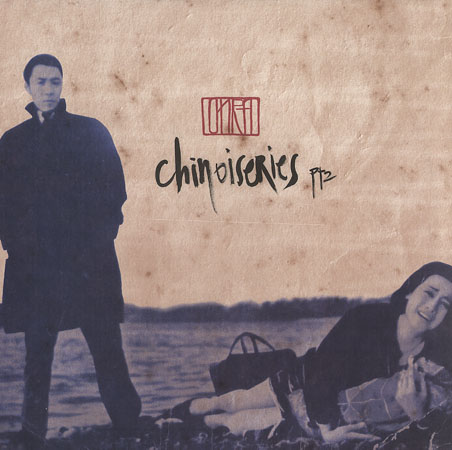 I spend most of my time in social circles where people rarely listen to hip-hop. For some it comes from lack of exposure, but for others it's a sort of blanket dismissal of the genre. As I don't take "no" for an answer and as there are many reasons to dislike hip-hop, I use of sort of algorithm to identify what exactly is the problem. One of them is that people just don't like rapping. It can be the lyrical content, often rude or political, it can be the "housing projects" accent in French, associated with violence and poverty. Or it can be that people just don't like hearing spoken word poetry performed in time to a beat (or don't understand it) and prefer hearing the exact same thing sung to a melody. In these cases I have an easy solution: instrumental hip-hop.
I don't mean hip-hop music done with only live instruments, but hip-hop music done without someone rapping to it. Because the DJ/beatmaker/producer's skills becomes the center of attention, they get much more space to layer complex loops and explore different music genres. Many people will call it trip-hop, downtempo or just lump it into electronica, but if it has a hip-hop beat and no vocal performance, for me it's instrumental hip-hop. Caveat: some of the albums below do feature several tracks with singers or rappers, so do your pre-listens accordingly. To help you with your holiday shopping, here are some recent purchases of 2011 and 2012 releases. I'll let you decide where to buy them, from iTunes to your friendly neighborhood record dealer, though some may be hard to find in your neck of the woods.
In 1996, DJ Shadow's Endtroducing pretty much defined the genre, and I have been listening to him ever since (as a non-native speaker it took me ten years to realize the joke behind Organ Donor). The Less You Know, the Better, his latest album, contains some distinctly hip-hop tracks but expands in so many directions (including pretty noisy rock & roll) that it really shows how far someone with a sampler and an open ear can go.
In my opinion, DJ Shadow's true heir is Al'Tarba, a French beatmaker. His album Lullabies for insomniacs contains tracks that moved me just the way Endtroducing changed my musical world in the late 1990s. His sound is often darker, using horror movie soundtracks and nods to his punk bassist past. While the album is available for free download (can't find a working link anymore though) do buy stuff from him, I need more of this!
If the above pieces are not pop enough for you, try Wax Taylor. I am not a big fan of his tracks featuring singers, but the deluxe edition of Dusty rainbow from the dark contains a CD with only the instrumentals which literally made my day. Again, a very rich source of influences, from soul to reggae, ideal for people who need a soft introduction to instrumental hip-hop.
Inspirations for Afroasiatik
Talking about reggae, dance hall and dub influences may be even more present than hip-hop in Chinese Man's music. Racing with the sun features some Asian samples (a recurring inspiration in hip-hop producers) and both the original album and the aptly-named Remix with the sun are worth a listen. The latter actually introduced me to a whole scene of French remixers.
Tha Trickaz's Cloud adventure also uses Asian samples but is way more dubstep and electro influenced than Chinese Man. It will probably sound harsher to the untrained ear, but will probably feel much more current to a younger crowd.
For the ultimate in Asian sample-based hip-hop, check out Onra's Chinoiseries (Part 2 was released in 2011). Tracks are very short and follow a more "simple" hip-hop structure than say, DJ Shadow's constructions, but are extremely efficient. Sure, if you like neither Chinese nor Vietnamese singing nor hip-hop beats, stay away from this, but why are you still reading? The two Chinoiseries are the true origins of Afroasiatik, my kung-fu hip-hop larp project for 2013.
Aren't these guys supposed to scratch?
If you feel the above links don't feature enough turntablism, try Scratch Bandits Crew's 31 Novembre. Again, very diverse influences,  but featuring the kind of syncopation most often seen in hip-hop DJ shows. Listen to the whole track below to experience the full progression.
Finally, former DMC champions C2C are more famous for their pure turntabling skills as a quartet, their jazzy hip-hop as part of Hocus Pocus, or their pop sample extravaganzas as part of Beat Torrent, and their 2012 album Tetra leverages all these influences. I am much less convinced by the dance music tracks or the ones with singers, but the album contains some real gems.
There would be much more to write about, but that should keep your head nodding until next year.